Zortam Mp3 Media Studio
auto tag your Mp3 collection!

Manage small to large collections of Mp3 files.

Automatically tag and download Cover album art and Lyrics to all your Mp3 files!

Rip CDs, lookup for Cover art and Lyrics and other missing information from Zortam database, rename/re-organize your Mp3 collection, search for duplicate Mp3's etc.
Zortam announced Zortam CD Ripper 4.00 ( Mar 08 2007 )
Posted by:
admin
(IP Logged)
Date: December 21, 2006 12:18PM
extract audio CD tracks to audio formats MP3, WAV with excellent output quality and high ripping speed, completely autotag mp3 tags with lyrics and covers retrieved from the Zortam Music Database(ZMLIMD).

full support for CDDB and ID3v1 and ID3v2.Unlimited sample rates converter support from 24000 to 44100 sample rate. Use The latest Lame encoder and options dialog for professional Mp3 encoding.

after extractions all lyric and pictures will be visible on Windows Media Player, iTunes and visible on your iPod and any other portable Mp3 Player that supports lyrics and cover arts ( ID3v2 tags ).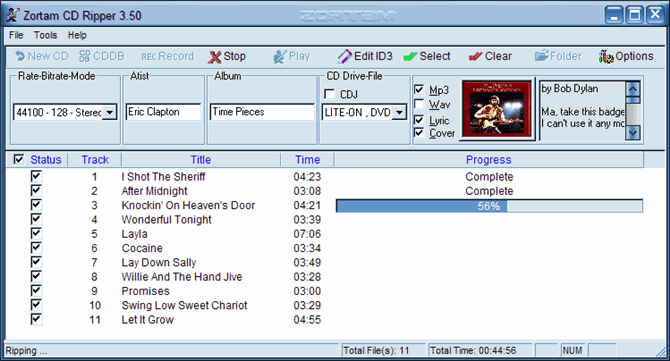 Click here to download Zortam CD Ripper 3.50.
Zortam Team
Edited 7 time(s). Last edit at 12/09/2009 05:23PM by admin.
Sorry, only registered users may post in this forum.