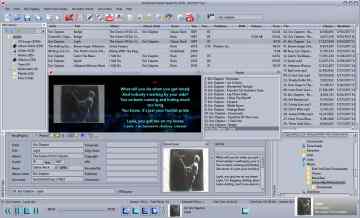 Automatic Music Tagger
Batch music tagger for music files
Automatically adds cover and lyrics
Music tagger for multiple music formats
Acustic fingeprint - song auto recognition
Integrated music player
"Zortam Mp3 Media Studio PRO offers everything that music lovers need to manage their music collection. The free version alone offers more options than most, if not all music management applications. The PRO version tops that with unique features. This is the tool for large music collections."
Volume Normalizer
Change volume to reach a target level
Find duplicate files using filename or tag info
Write tags from filename
Rename files using tag information
"An excellent music suite that comes packed with powerful features...brings order to even the messiest of music collections."
YouTube to Mp3 Converter
Download music from YouTube
Auto fix incorrect tags
Automatically add lyrics to music files
Automatically import songs from iTunes

CD to Mp3 Converter
CD to Mp3 Converter - automatically adds cover art and lyrics
BPM (Beats per minute) Track Analyzer
Automatically lookup and bulk add cover art to mp3

Zortam Mp3 Player
NOTE:
Here you can download Zortam Mp3 Player as seperate application.
Zortam Mp3 Player is also included in Zortam Mp3 Media Studio installation package.


Zortam Mp3 Player will enable you to listen all your favorite tracks and at the same time enjoy a show of lights and images visualizing the covers of your albums and song scrolling lyrics. You may add additional visualization plugins using Zortm visualization SDK.
Play Mp3 song and M3u playlist
View Lyrics and Cover arts from your Mp3's
View all covers in slideshow mode
Registar Zortam Mp3 Player as your default Mp3 Player
Add your own visualization plugins using Zortam visualization SDK
Add your own background pictures