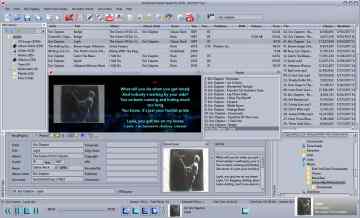 Automatic Audio Tagger
Batch audio tagger for audio files
Automatically adds cover and lyrics
Audio tagger for multiple audio formats
Acustic fingeprint - song auto recognition
Integrated audio player
"Zortam Mp3 Media Studio PRO offers everything that music lovers need to manage their music collection. The free version alone offers more options than most, if not all music management applications. The PRO version tops that with unique features. This is the tool for large music collections."
Volume Normalizer
Change volume to reach a target level
Find duplicate files using filename or tag info
Write tags from filename
Rename files using tag information
"An excellent audio suite that comes packed with powerful features...brings order to even the messiest of music collections."
YouTube to Mp3 Converter
Download music from YouTube
Auto fix incorrect tags
Automatically add lyrics to audio files
Automatically import songs from iTunes

CD to Mp3 Converter
CD to Mp3 Converter - automatically adds cover art and lyrics
BPM (Beats per minute) Track Analyzer
Automatically lookup and bulk add cover art to mp3

Zortam Mp3 Media Studio program features:
Automatically identify and organize your digital music collection
Auto Tag MP3, FLAC, WMA, M4A and WAV audio files
Free Tag Editor
Integrated audio player
Mp3 Volume Normalizer
Automatically add cover art
Automatically add lyrics
Rename Mp3 files automatically using tag information
Auto tag files and clean up tags automatically
Write tags from filenames using custom formats
Tag and rename audio files automatically
Automatically import songs from the iTunes library
Fix broken tags
YouTube Mp3 Converter
Organize a huge music library with ease
BPM song analyzer
Find duplicate Mp3 files using Mp3 tags or file information
CD Ripper automatically adds cover art,lyrics and other tags
Export whole or part of Mp3 library to CSV, Excel, HTML
Identify audio tracks using advanced fingerprint algorithm





Zortam Mp3 Media Studio is an all-in-one audio application suite designated for editing tags of audio files. It has several modules such us AutoTagger, Audio Organizer, Audio Tag Editor, Integrated Audio Player, Mp3 Volume Normalizer, BPM (Beats Per Minute) Analyzer, CD Ripper, YouTube To Mp3 Converter, Mp3 to Wav converter, Auto rename file editor.

The application supports MP3, FLAC, WMA, MP4, and WAV tags and audio formats. With Zortam Mp3 Media Studio you can batch auto-tag your music files, rename files, search for duplicate files using the tag information or filename checksum, write tags using information from the filename, and much more.
The batch autotagger process identifies your music and downloads automatically album art, lyrics, and other metadata such as artist, title, year, genre, and track info to your audio files.




The software recognizes over 35 million music tracks. Album covers, lyrics, and other metadata are saved to tags and can be viewed in iTunes, iPhone, iPod, and Android mobile or tablet devices.

The program is designed to run on the Microsoft Windows operating system and supports Windows 2000, Windows XP, Windows 7, Windows Vista, Windows 8 and Windows 10, Windows 11.
The program is translated into English, German, Italian, French, Spanish and Portuguese. br> There is also an android version of the program which you can download from Google Play.
Zortam Mp3 Media Studio 31.10 release information:
(Sep 25 2023 )
Check what is new in version 31.10 ...
Added support for FLAC, M4A, WAV and WMA audio format
Choose between vertical or horizontal layouts when editing tags. This option you can find in [Menu] - [View] - [Layout(Vertical/Horizontal) - Needs restart]
Fixed bug with YouTube Mp3 converter
Added auto search dialog
Added player controls to the tray menu
Implemented 64-bit version from version
Added to the Options Menu - Fonts (for all languages)
Added to the Options Menu - Player Options
Added to the Options Menu - Player Visualization Plug-ins
Add additional genres to the [Options] menu
Added Tag type description column to the list
Added support for freedb protocol(gnudb.org) to look up for metadata from the audio CD.
Replaced freedb.org server after its shutdown with musicbrainz.org servers to look up for metadata from the audio CD
Changed default sorting to [Artist]-[Album]-[Track number]
Added support for ID3v2.4 tags.
Improved speed when reading/writing ID3 tags by 50%.
Improved YouTube Mp3 Converter
Improved processing speed when autotagging tracks
Mp3 Output Folder is the same for CD Ripper and YouTube Mp3 Downloader
Simplified playlist creation
Drag and drop support across the program and from the program
Automatically import audio tracks from iTunes
Auto tag files with missing tags
Skin support